"Paul, if you could sum up Dunrovin in one word…."
That's easy. Peaceful."

Paul Moyer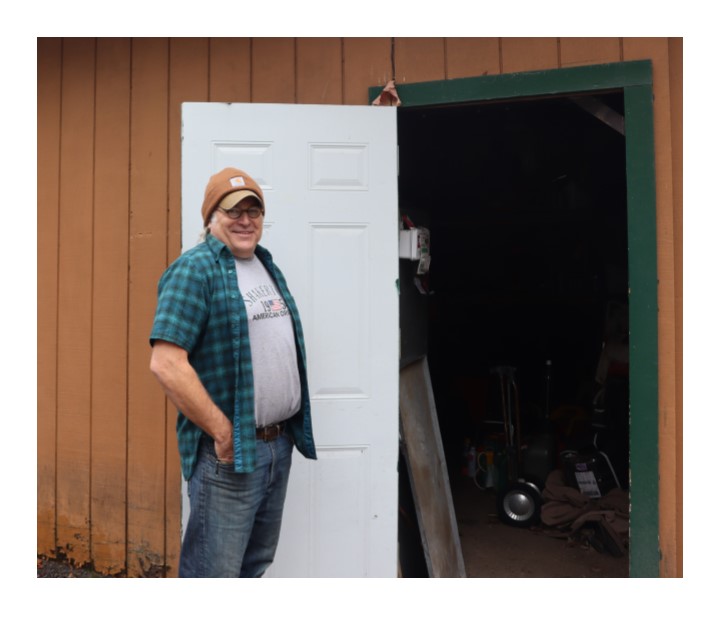 I nodded as other voices called to me out of memory with those same words, pointing to this same place… peaceful. What is this experience of peace that so many of us have when we take that half-kilometer drive down the hill and into Dunrovin?
Part of the answer, I believe, lies in Paul's approach to the property. Talking to Paul about the grounds of Dunrovin, one gets the impression that Paul is interacting more with a 'being' than with anything else: a living organism in flux, one that changes hue and shows small, quiet secrets.
There are two seasons of color: first in bud, then in dying leaf. The river brings many changes: if it is high, the beaver crosses over. If it is low, the snipe returns to the dike to hunt crustaceans in the mud.
Each season brings its own challenges. The river threatens to rise above its banks, ice snaps power lines, windstorms down trees. Deer, although dainty, total cars. And years ago, a slick covering of ice on the driveway nearly landed Janice, one of our cooks, in the stream.
"How do you balance preserving the natural side of Dunrovin and taking care of the property well?"
"Oh, well, safety is key."
Yellow jackets need to be taken care of. An old tree needs to be removed. Snow must be cleared. These changes allow for a peaceful balance between nature and property.
And animals know they can come to Dunrovin for safety. Each one finds a name in Paul's almanac: The honey bee and native bee. The tamarack tree. The duck who nested underneath the St. Croix Chapel. The otter who chose the Northwoods cabin for her nest. Near his desk, red squirrels chatter aggressively and the walls with black walnuts to shield against winter. One used to climb onto Paul's desk and became his friend.
Paul came to Dunrovin ten years ago to plow snow with a friend. The tasks soon became more involved, and Paul left his job in general contracting to work at Dunrovin. In another life, he may have been a shepherd, following his grandfather, once the number one wool supplier to the U.S. Army. As he discerns how best to care for the grounds, Paul points to the philosophy of Aldo Leopold for inspiration.
And if you do see Paul, it may be on a golf cart, one he rewired after squirrels chewed through the wires.