When we give these kids our love and a break from the trials in their lives, we hope a seed of hope is planted in them."

Tomás Garcia – DLITE participant
Some bounce in with excitement. Some stay to the back of the room, avert eyes, and question the process. All who come on the Dunrovin LEAD* youth programs leave with a life-transforming experience.
On the outside, we observed Tomás Garcia as a quiet student, but not unusually so. He interacted with his parents, who came with partner parishes. He participated in the activities, a whopping total of six years in Summer Leadership Camp encounters and three years in the DLITE** program. He flourished.
Now we recognize Tomás as a thoughtful, reflective, interactive, capable, burgeoning college student and a guy with a mighty soccer kick.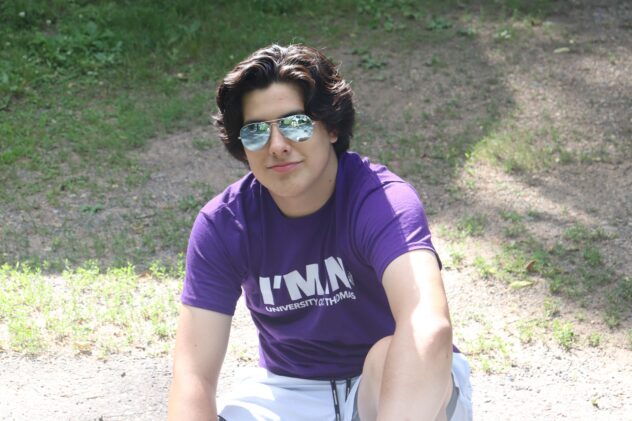 Such is the journey toward maturity in the Leadership Experience At Dunrovin (LEAD) program. Its progressive structure encourages growth from one opportunity to the next. Read the story Tomás shared with Dunrovin family and friends at the 2022 Sunset Benefit Cruise.
LEAD Encounter (Summer Leadership Camp and school year day retreats)
"I remember my first day of Dunrovin camp as an elementary student coming with my local parish. I was super nervous getting out of the bus because I had no idea what to expect. Then, this group of weird and loud (but oddly comforting and welcoming) high schoolers came to greet me. I learned they were the DLITE team. I remember observing and thinking,
Wow, these guys are kinda cool. They're not afraid of being embarrassed and they're always excited to do anything.'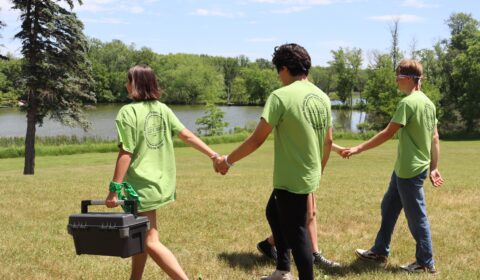 "It didn't feel forced either. They actually cared for us, and that was strange to me. We were strangers, yet it felt like we had known each other for a long time. I had such a great week. I couldn't wait to come back the next year."
LEAD Training
During his high school years, Tomás was drawn to the call of servant leadership and accepted an invitation to serve at FamJam camps in 2021. Immersed in the beauty of God's creation at Dunrovin, FamJam served as an oasis for many inner-city families dealing with pandemic-induced isolation in addition to the daily stressors of poverty. Tomás recalls one day when Dunrovin hosted a parish of Spanish-speaking families.
"Nobody on our team spoke Spanish fluently except for me, so I was surprised and put on the spot immediately as a translator. This was a bigger role than I anticipated. Before this, I didn't really like public speaking, and I always wanted to stay in my comfort zone, but this was the nudge I needed to get out of my shell. From this point on, I began my journey of intentionally pushing myself into the uncomfortable. I realized doing great things like helping others requires leaving my comfort zone."
With each DLITE opportunity, Tomás has seen growth in his own leadership ability and confidence.
When the white San Miguel school buses came down Dunrovin's driveway this summer [June 2022], I felt a swirl of both unsettled nervousness and yet much excitement. As the kids started filing out of the bus, I looked at them and remembered being in their place. That reality hadn't really clicked…I was now one of those 'weird and loud guys.' I took a breath and went into the crowd. I started welcoming the kids. And suddenly, everything was okay, my nervousness went away, and I was looking forward to the week."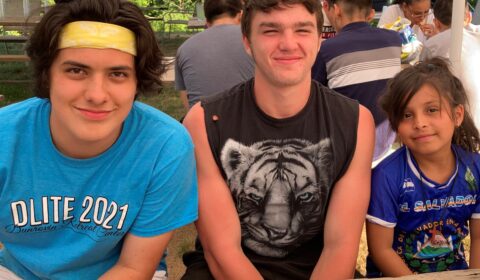 DLITE – Dunrovin Leadership Intensive Training Experience (LEAD Intensive)
"From game to game, day to day, I got to know these kids pretty well, and at some point, some even started opening up to me about their lives at home. I learned that these kids daily face gangs, violence, and poverty. In fact, most do not even play outside in their yard simply because it is too dangerous. This touched my heart."
"A lot of kids didn't know how to swim, and they wanted us to teach them. One kid excitedly shared, 'Oh yeah. I've been to a pool before! I was like 6, so I don't remember much.' Those words were heartbreaking to hear from a 13-year-old. By the end of the week, it felt like I knew these kids so well. I had the chance to be with them for some of their firsts: their first time canoeing, their first time touching a bow and arrow, and even their first time seeing a dragonfly. And yet, I knew they were not the only ones who were growing. Since my first out-of-my comfort zone experience [at FamJam] in 2021, I realized I was becoming a new person."
Parting words from Tomás:
"When we give these kids our love and a break from the trials in their lives, we hope that a seed of hope is planted [in them]. We hope it sprouts into happiness and something more, something they can eventually pass on to others."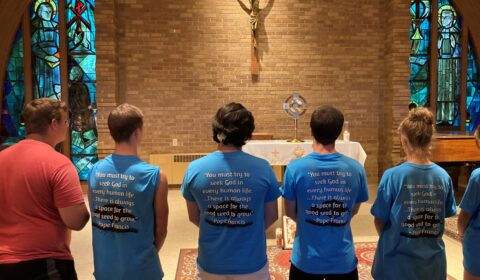 *LEAD youth programs offer a progressive, stair-step structure of youth leadership skills. A student can enter at any stage depending on life experience and faith formation. The program is designed for a student to move from the initial "Encounter" stage to "Training" to "Intensive," by returning through successive years and taking on roles and experiences that offer increasing leadership formation and hands-on service opportunities. All levels of LEAD build on four pillars: growth in Catholic faith, personal maturity, servant leadership, and community.
**Dunrovin Leadership Intensive Training Experience (DLITE) is the pinnacle of the youth leadership program.