A Memories Mini-Retreat with Mary
The first time I attended a river cruise was a late-July Monday in 1999. Jerome and I had lived at Dunrovin just shy of two months. Research shows our memories are imperfect, with encoding influenced by many factors. That said, I remember the full moon rising on the east side of the Saint Croix River while the sun set on the west side. Idyllic, soothing memories. That night I survived meeting hundreds of new people, and the course of the annual Sunset Benefit Cruise was set in my memories.
What's not to love about this event?
The people?
The setting?
Big bowls of candy?
A cool beverage, maybe a fabulous prize?
I don't have to cook!
During summers filled with heat or stress, the boat ride offered a moment of respite.
I like to call it a mini-retreat: a night on the river with cool breezes and friendly conversation. A few hours to relax the spirit and mind. Watching the river go by.
In our 23 years of life at Dunrovin, Jerome and I attended 21 cruises, missing two years due to the pandemic.
My favorite memory occurred in 2008 when my son Mario was an active 3-year-old preschooler. He and I wore matching yellow outfits; a yellow shirt for my little tornado so I could find him easily in a crowd and a gorgeous yellow dress for me. We were a pair. And as a pair, we stood mesmerized, watching the Avalon's waterwheel spin around and around. And around and around. And around and around.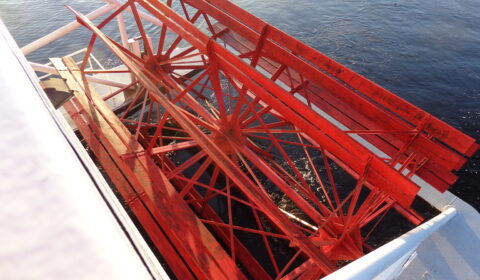 For the entire evening. I loved the quietness of watching my son watching the waterwheel. Occasionally, people joined us to talk. Otherwise, we simply stood there and laughed at the drips and splashes of water. As a tired mama, it was a night of pure enjoyment, being with my little guy and his simple happiness.
---
I had babysitters onboard. In our early years, both sets of grandparents joined us. I loved seeing their familiar, loving faces in the crowd. Often they took turns watching over Mario.
My misty water-colored memories of the 2005 sunset cruise are bittersweet. It was the year my dad died. Mom did not want to come on the cruise without him.
It was the only year we had stormy weather. Thunder and lightning with pouring rain splattered the skies. People scurried on the boat seeking dry shelter. The captain reassured me the crew knew how to manage the weather. It still seemed frightening. My dad would have been nervous. I was grateful Dad missed the storm, although I sadly missed his presence.
After all our guests were on the boat, the weather dried up. Clouds lingeringly moved off the sky's palette, and a gorgeous sunset painted the heavens instead.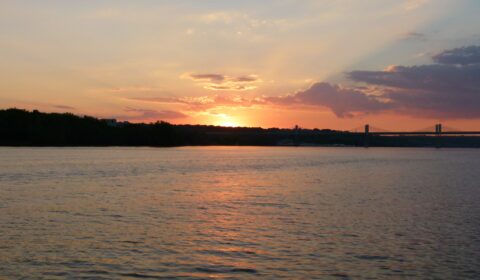 More scattered pictures light the corners of my mind. Hot air balloons, amphibious cars, speedboats, and maybe a couple of jet skis. We watched beach houses slip past and wondered who was lucky enough to live on the river. We noticed the Bayport marina and its beautiful boats. We observed the construction of the new St. Croix River Crossing Bridge and viewed the I94 interstate bridge on one end of the trek and the historic Stillwater lift bridge on the other. What is more dreamy than a riverboat ride bookended by bridges?
Ah, another memory stands out.
One year, two men approached me before the boat sailed. One gave me an urgent command, "Open it now," as he handed me a plain white envelope. Inside, I found a check written for $10,000. I walked it straight up to my car and came back onto the boat, floating on a cloud all evening.
You might ask, is this event operated as a friendraiser or a fundraiser? Perhaps it is both.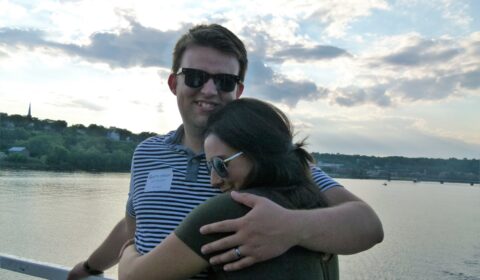 Yes, the cruise is a friendraiser.
What a wonderful feeling to see familiar faces at this once-a-year-event! Sometimes I even remember names. Each guest is dear to us, sappy as it sounds. It is satisfying to watch people kick back and relax. Lynne and Paul are two Dunrovin friends who passed away in autumn 2021. Lynne brought 40 of her own guests each year. Paul and Marilyn joined us, bringing their next generations along, too. (When our young Meeds family lived at the Catholic Youth Camp in the mid-1990s, a swing set showed up in our yard. Paul and Marilyn brought it for our girls.)
Yes, the cruise is a fundraiser.
This event is our annual fundraising effort, raising financial help to bring underserved (often inner-city) youth to life-changing youth programs. On the boat, we listen to teen leaders tell stories of growing close to God and maturing as people while on a Dunrovin retreat.
We tell our mission's story in an inspiring, short program. Afterward, guests have the rest of the evening for themselves. They have time to eat scrumptious food, play onboard games like Heads and Tails, chat with friends, or quietly watch the river go by.
All too soon, the boat arrives back at the dock as nighttime descends. People hurry off to get back home to bed. Tomorrow is another normal day.
But for tonight? Tonight there is the river…..
---
Reflection questions
Do you ever feel lonely, tired, or stressed? God is near. Take a few slow deep breaths, and let your body relax as you say, "Let us remember that we are in the holy presence of God."
There are many occasions to remember in life: wedding anniversaries or the death of a loved one, birthdays, buying a new house, enjoying a special vacation, etc. Recall one memory from the past week, month, or year, and give thanks to God for it. Can you picture God present with you in this memory? Ask the Holy Spirit to infuse your imagination.
Think of a friend who is very dear to you. When is the last time you spoke or saw each other face to face? Maybe it was today, or maybe it was years ago. Thank God for the gift of your friend and pray for a practical way to reach out with love and renewal of your relationship.
Lectio Divina: Sirach 6:14-16
Lectio (read): Read the Scripture slowly. Listen to the words and allow them to sink into your mind.
Meditatio (reflection): Read through the Scripture slowly a second time. Reflect on one word or phrase that catches your heart and meditate on it with your imagination.
Oratio (response): Read through the Scripture slowly a third time. Respond to God's Word with your own prayer of thanksgiving, confession, praise, or simply talking to God.
Contemplatio (rest): There is no right or wrong way to allow God's Word to capture you; simply let it capture you.
A faithful friend is a sturdy shelter; whoever finds one has found a treasure.
Faithful friends are beyond price; no amount can balance their worth.
Faithful friends are life-saving medicine; and those who fear the Lord will find them.
---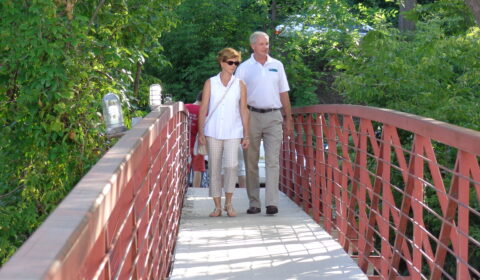 Mary Meeds and the Dunrovin staff cordially invite you to attend the 28th Annual Sunset Benefit Cruise.
Thursday, July 28, 2022
Boarding begins at 5:30 PM on the Avalon at the Stillwater Riverboat docks.
For more information, contact Camille.
Thank you, Dick Anderson and the Stillwater Boat & Packet Co., for sponsoring this event for 28 years.