By guest writer and artist, Madeline Orsinger
I'm so grateful to Dunrovin for hosting my art show during August 2023.  The theme was "Fully Alive", derived from the line attributed to St. Irenaeus, "The glory of God is man fully alive."  The show visually explored what it means to be "fully alive," from a vantage point of humbly searching out the mystery, for
"No eye has seen, and no ear has heard, no human heart has conceived what God has prepared for those who love him" (1 Corinthians 2:19).
Though we are taught that we are made "for a share in God's own blessed life" (CCC.1), the head knowledge of that fact must descend to a heart level so that our belief in it may become fully realized- an active, transformative belief that changes how we live and operate.  
Vision plays a hugely important role in all of this. It gives us direction; it orients us to the place we are going.  It allows us to believe the destination is reachable. In short, wherever we sustain our gaze is where we will end up.  
How fitting that (unplanned!) the Gospel reading the weekend of the art show was the story of St. Peter stepping out onto the water. While he fixes his gaze on Jesus, his faith is such that he can do the unimaginable, operating beyond the bounds of what we might call 'normal'. But when Peter's gaze is turned and he sees the waves, his faith is weakened. His belief returns to a head-level knowledge, 'these are the limits of what is possible,' and Peter begins to sink.  
As it is, the most 'real' reality is that of life in Christ, and "nothing is impossible with God" (Luke 1:37).  We must train ourselves to see beyond the limits of our imagination. The saints, who live out of this 'new normal' are those who got the closest to living out the reality of life in Christ on this side of heaven, the rest of us simply have to catch up!
To become an image of the living God, transformed by his life, we must fix our eyes on him.  And this we can do in every circumstance, for God is constantly pouring himself out. He is not hidden from us, we simply must slow down and learn to attune our focus.  
Most of the "Fully Alive" art show consisted of landscape paintings, which attempted to bring into focus small windows of creation — opportunities to encounter God and revel in the mysteries of his life. But within the show was a 3-painting series that explored the opposite, the places where we feel we cannot see God. It is that portion of the show, which I got the most feedback on, and it seems God was at work through it, so I share that snippet here:  
The "I Have Not Left You Orphans" Series
Whereas most of this show is about catching sight of a new vision, this series is about the times we lack vision, and our faith must spring from a 'hope unseen.' 
There are those life situations where we simply cannot see God – perhaps an area of suffering in your life or that which you witness in others, a question you simply cannot see the answer to, a promise of God which you do not see fulfilled. And perhaps if you've dared acknowledge these things in your heart, you are met with an onslaught of emotion – fear, anxiety, doubt, anger – how could God possibly be in this?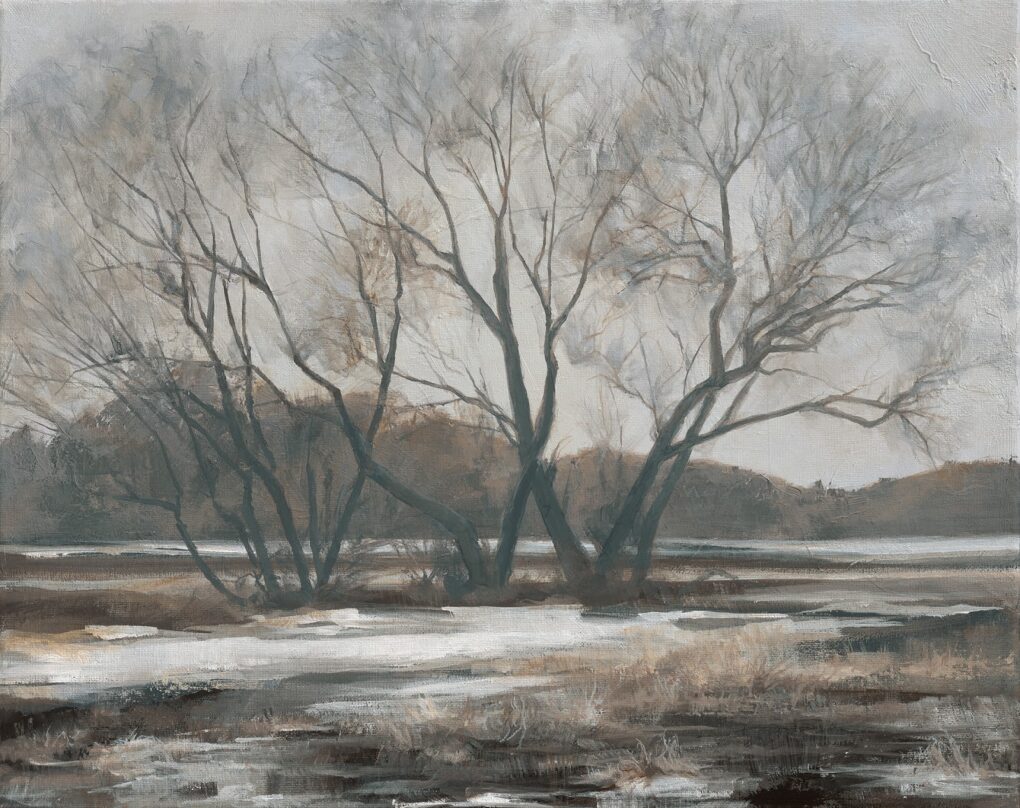 WAITING THROUGH WINTER
16"x20" ACRYLIC ON CANVAS
Verticals rising from empty ridged wastelands
Arms stretched wide,
"I will praise him still"
What we see from our vantage point is a vision of a circumstance where God is not present, his grace is not active, those involved are abandoned by him. This is the 'orphan spirit,' the mindset of abandonment, which reigns over certain memories in our lives and speaks limitations over how far we believe God's love will go. It is the antithesis to the 'spirit of sonship,' which is confident in the Father's love in the midst of all circumstances, even when we cannot see.
It is hard to be in the midst of this blindness, and what we yearn for is vision: answers, God's perspective for the situation, to know how he's working in another's life, to know why.  
Though we lack vision and struggle to find purpose in the suffering, there is One who did see and chose to pass through the place of abandonment anyway: God himself went to the place of abandonment. Jesus cried out from the cross, with his dying breath, 'My God, My God, why have you abandoned me?' (Matthew 27:46) He entered into abandonment so that even those who feel most unreached by God can pray that prayer in union with Jesus. And where the Son is, there the Father is (Matthew 20:40).
I take hope in the fact that he, in his human pain, but with the vision of God, knew it all to be worth it. I expect if we knew what he knew, all our questions would shrink away.
Perhaps that's how it will be when we see him face to face; rather than have all our questions answered, they will simply fade to nothingness as the light of his face illuminates all.  
He asks us to trust him even in the midst of our blindness. He promised "I will not leave you as orphans" (John 14:18). Even from our vantage point of blindness, we can proclaim this over our specific circumstances and memories. That is why I've titled this series 'I have not left you orphans.' I believe God wants to meet us in our memories and proclaim this truth over us. In an act of faith, we can proclaim it with him.  
PRUNED
12"X16" ACRYLIC ON CANVAS
Some wounds we may not choose,
but because of them we see clearly
the otherwise hidden liveliness which is
the presence of God.
Artist's Personal Reflection on these themes
I was driving once with my baby in the back seat, to a retreat in fact, in fairly treacherous winter storm conditions.  Along the way, while apprehensive of spinning off the road and meeting a tragic end, several memories were welling to the forefront of my mind: stories I'd heard of random people in the news, stories that had struck some inner layer of my heart, and all I could think as they ran through my mind was, 'Whatever help they needed, they didn't get it.  God didn't provide for them.'  
I knew this didn't align with God's promises, but couldn't see any differently, and the only prayer I could make out of that thought was, 'God, here's what I think about this. Help me know what I need to know to trust you again.'
And the answer I got is a somewhat difficult one. Part of me still wishes for the easier one, which would be to know exactly how God was at work in those people's lives. (How nosy of me…sheesh!)
Instead, I drove past a tree: a huge gnarly oak with dark barren winter branches, a silhouette against this apocalyptic sunlight which was radiating from behind it.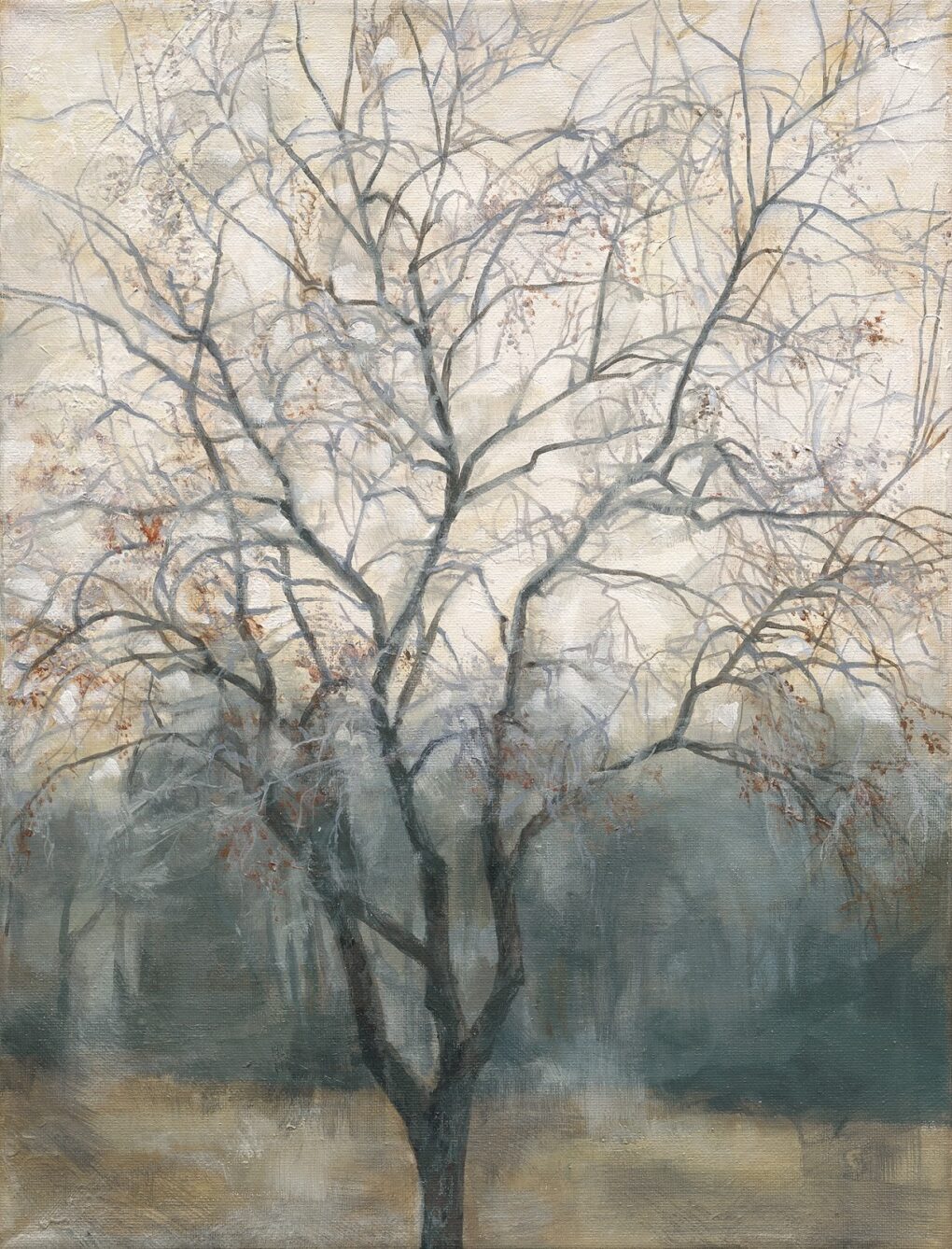 INTERIOR WELL-SPRING
16"X12" ACRYLIC ON CANVAS
Despite the bitter cold
May the heart, grafted to you
Overflow always with the fountain of life.
And this understanding accompanied it:  the tree looked like death (literally with its gnarly dark appearance and lack of leaves), and seemed to encompass all my feelings about my driving situation, as well as the 'abandoned to tragedy' projection I made onto the lives of these strangers.  But that unearthly light, fixed behind the tree, radiating through it like a spotlight through fog, was like God was pointing right at it: 'The tree is not dead.'  
It was as simple as that.  The tree looks that way, in a shockingly emotionally relatable way, but it isn't so. My vision doesn't capture the whole story. It put me in my place – it is not for me to know the personal ways God is at work in others' stories, unless by their testimony.
I do know the way he's worked in my life. It's not as though I'm blind to the goodness of God. There are areas we are mercifully shown his goodness and areas we are asked to trust. 
And I think that opportunity for trust is a mercy in itself – 'Blessed are those who have not seen and yet believe' (John 20:29). Can our faith grow if it is never tested? In the end I believe it is not having the answers, but our certainty of his love which will satisfy the questions upon our hearts. And that certainty will be not just a head certainty, but a certainty of the heart that is fully realized- because God's love became tangible in our lives when we took a leap of faith, such that he could come through for us when, instead of shrinking from anything in which we feared he might not have our back, we took a risk and opened that space to give him a chance.
---
Some of Madeline's artwork hangs at Dunrovin Retreat Center and is available for sale. View more of Madeline Orsinger's artwork on her website. Madeline lives in Stillwater, Minnesota, with her husband and children.