In the Lasallian spirit, Dunrovin staff desires to show Christ in hospitality to all who come here. And what better way to show that hospitality than through comfort food! Over and over our guests rave about the food they receive. The next few blog posts will spotlight the faces behind Dunrovin meals, as we thank the women who spread joy and love through their cooking.
---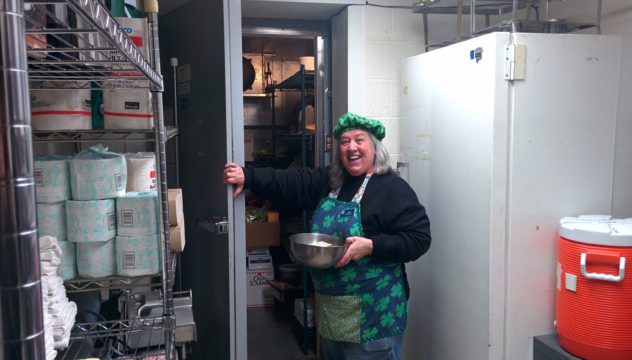 Gail Coolidge – Although Gail Coolides fantasizes that she is the "Kitchen Queen," she bows to the experience and creativity of her fellow cooks. Gail is a woman of many talents; she has a degree in English and spent the majority of her adult life as a glass blower.  Cooking is her "retirement job."
Gail is a vibrant woman who continues to give and give throughout her life.  She spends free time on various causes, including fundraising for cancer cures, seeking to conquer cancer, the disease that claimed her husband.  Gail lives in Marine on St. Croix and likes to walk, garden and spend time with family and friends.
1. How long have you been working for Dunrovin?  –  "14 years."
2. Why do you like cooking for Dunrovin?  –  "Cooking for diverse groups."
3. What is the secret to Dunrovin's food being so good?  –  "Caring about the guests needs."
4. How did you get into cooking?  –  "My Serbian grandmother."
5. What is your most memorable cooking disaster/mistake?  –  "Cooking broccoli one day beyond freshness – a potent smell."
6. What is your most memorable cooking success?  –  "Food makes people happy – I like their smiles when they eat my food."
7. What is your favorite meal to eat?  –  "Cuban food"