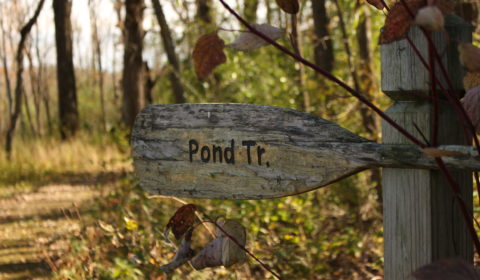 A plaque installed on a Dunrovin walking bridge perfectly sums up the attitude with which we care for guests — "This bridge was constructed for the enjoyment of all who visit Dunrovin." (Cole Wilson)
You need only one step on the bridge to realize that the Beauty of Creation is a prime reason people love to come to Dunrovin. God's refreshment flows through the soul as a person gazes at water, earth, and sky. Into the midst of these enters several fine young men. Some call them 'Eagle Scouts.' We call them 'Super Heroes.'
During the past ten years, seven Boy Scouts completed Eagle projects at Dunrovin. Scout troops came from all over the Twin Cities metropolitan area to offer their resourceful skills and determined muscle, as they assembled benches, bridges, and bunks. All seven of the Eagle Scout projects add hospitable elements to the Retreat Center for the enjoyment of all.
Dunrovin Executive Director Jerome Meeds speaks of the Eagle projects with enthusiasm: "In our youth programs, we challenge young people to do the extraordinary, to move beyond their comfort zone. Pope Benedict XVI said, 'The world offers you comfort. But you weren't made for comfort. You were made for greatness.' The Eagle projects that these Scouts have chosen are pretty significant. They could do easier, get-er-done projects. But Scouts have put in many hours of time into projects that are extraordinary in quality and design. These young men, as with the leadership students in our programs, leave their mark on others because they go beyond what is easy or mediocre and they soar to excellence." 
It all began in 2005 when Scout Daniel Anderson from Shoreview searched for a place to complete his project. A member of the Dunrovin Board of Directors suggested Dunrovin. Anderson built two bridges on the river trail; one was a 20-foot bridge spanning a ravine, the other a floating 12-foot bridge over an area that regularly floods.
With that, a flurry of scouting projects began. In 2010, Luke Wolf from St. Paul carved rustic signs out of wooden canoe paddles to mark hiking trails. In 2014, Cole Wilson designed and along with Troop 9005 of Woodbury rebuilt the 75-foot wooden walking bridge that spans a woodland stream. Cole participated regularly in Dunrovin's Getaway Youth Retreats and desired to 'give back'.
Stillwater Troop 132 completed four Eagle projects during the past three years. These projects define space for God as they offer peaceful places for prayer, conversation, or a breath of fresh air.
Jimmy Thomson crafted a unique triangular-shaped observation deck jutting over a stream.

Sam Schraut built twelve much-needed benches for the fire circle, replacing a miss-match of benches previously used.

Chase Glaser followed up with eight sturdy impenetrable yard benches scattered across the property.

Aaron Wessel constructed two bunk beds for the first floor dorm room – the Rosemary Voelker Room, dedicate to long-time friend of Dunrovin who died unexpectedly in October 1991. Bunks increase the sleeping capacity of this room to five, just right for youth groups.
At Dunrovin, eagles soar in more ways than one! Thank you to our Eagle Scouts.
We admire your fine character as you seek to live life with the true honor of a Boy Scout and as sons of God.