Summer Getaway Programs:
"AWESOME!" is the word one teen texted to her church youth minister after the Senior High Getaway Retreat held August 3-6th.  Thanks be to God's grace, 39 senior high school students, volunteer staff, and youth ministers to Dunrovin took part in this retreat that is traditionally one night and one day longer than a typical weekend retreat.  The extra day gives students plenty of quiet time to dig into God's truth in the Psalms.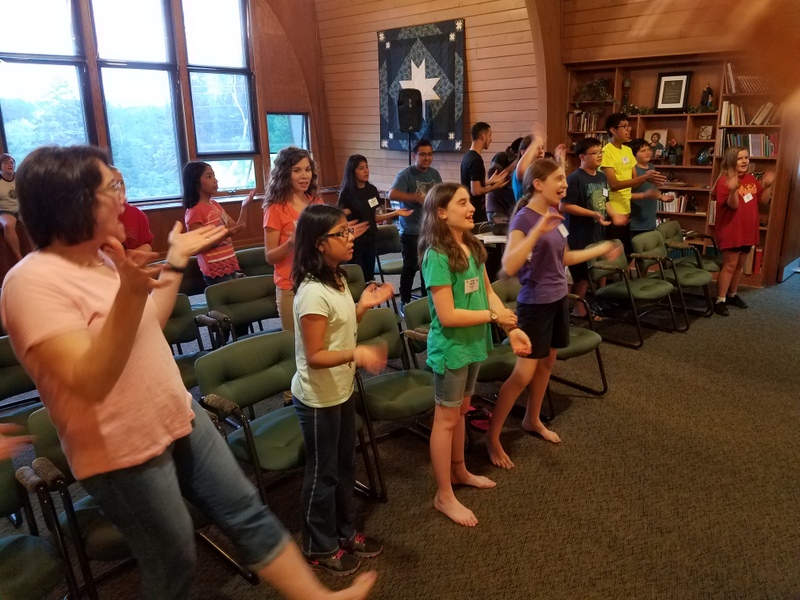 Thank you, Fr. Tom Rayar, for serving Mass on Saturday evening.  Thank you, Mr. Jim Franzen, Mary Howard, Tim Stanoch, for your service in caring for the youth.  Following is an excerpt from an email sent to Dunrovin from a youth group leader:
I wanted to pass along my thanks for the terrific ministry y'all are doing at Dunrovin.
I received a text message from a teen (and a parent) about her "AWESOME" experience at a recent Dunrovin weekend retreat.
Although this is not news to me (your retreats get consistently positive reviews), the word is spread in our community about your beautiful setting and welcoming atmosphere (already had another parent asking about Dunrovin's 2017-2018 retreat schedule).
Many thanks again for your caring ministry to "my kids".
Sunset Benefit Cruise:
"Dunrovin is and ordinary place doing extraordinary things." (Joaquin Martinez)
What a delightful evening on July 31st for the 266 guests who attended the 25th Annual Sunset Benefit Cruise!  We are humbled by the many people who gave financial donations to serve the mission here – after stirring sharings by Gretta Utecht (former summer program counselor), Cory Haala (Getaway youth attendee for over 10 years), and Joaquin Martinez (youth minister at St. Stephen's Church, Minneapolis).  Because of the generosity we received, the $5,000 matching challenge offered by Greg & Cathy Stevens was met and surpassed.  God is good!
Congratulations to Mr. Jim Franzen who received the Brother I. Damian Award – given to a person who carries on the vision for ministering to youth at Dunrovin.  He has faithfully served youth at Dunrovin since the 1980's, alongside his work as the Chief of Police in Robbinsdale.
Thanks to all who made this a fun and successful cruise. See you next year!